Broadway Utica Highlights Local Female Owned Bakeries in Honor of International Women's Day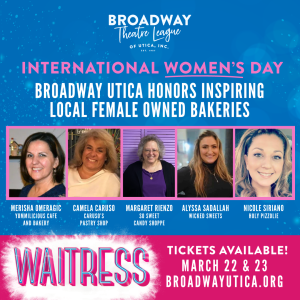 In honor of International Women's Day, and the upcoming performance of Waitress, on March 22nd and 23rd, the Broadway Theatre League of Utica is highlighting inspiring female owned bakeries they're proud to know and love. 
Mersiha Omeragic owner of Yummilicious Cafe and Bakery
Mersiha came to Utica in 1994 with her late mother, younger sister, and nothing but her hopes and dreams in her back pocket. As a refugee, Mersiha faced many obstacles before she found success with Yummilicious Cafe and Bakery, located at 1600 Rutger Street in Utica.
A proud wife, and loving mother of four children, Mersiha spent 13 years of her life working as an ESL teacher for adults. Helping others learn English was a gift that Mersiha was proud to share with others. Yet, there was another passion, one that her mother and grandmother stirred deep down inside of her, that longed to break free. 
"I remember I was probably 7 or 8 when I made my first hurmasica (traditional Bosnian dessert) with my grandma. She was telling me how important it is to make everything with love. She used to tell me that she didn't need a recipe but only her head and heart. I used to sit next to her and write down her recipes, but somehow it took me a long time to succeed in making them. I guess I didn't have my heart ready for it yet."
Mersiha would whip up a batch of her grandma's lokum (butter cookie) and other Bosnian desserts to keep her memory, and the spirit of Bosnia, alive. But sometimes growing up beside strong, independent women, who were great bakers and cooks, can be a hard door to keep closed. While her husband enrolled in college for culinary arts, Mersiha found herself engrossed in the cake creations she was seeing on Cake Boss and decided to explore them on her own.
"I was not good when I started," Mersiha reflected.  "But I didn't give up. I signed up for every class possible, wherever I could, even when we traveled to places, like Paris, Venice, and Istanbul. I just wanted to learn so much."
Eventually, those classes took shape as Mersiha started creating beautiful cakes and developed her own recipes and designs. 
"Soon, I was no longer afraid of getting an order for a cake and not being able to recreate it for a customer." 
When the time was right, Mersiha and her husband began dreaming about starting a cafe and bakery of their own. Unfortunately, that dream almost ended as the COVID-19 pandemic hit one month after opening its doors. Luckily Mersiha and her family were resilient, and so was the community.
"My proudest moment was when we officially opened the doors to Yummilicious Cafe and Bakery and people came from not just Utica, but from other cities and states to try our desserts and food. My dream had become a reality and I was so happy. Today I enjoy baking my grandmas, moms, aunts, and, of course, my recipes. My dream as a baker is to be known and respected in the baking industry by my colleagues and my customers. I want to meet inspirational chefs like Gordon Ramsey or Ron Israel and maybe even have them try some of my desserts and cakes. Who knows, maybe even Oprah will try my cakes."
And, as for her favorite pie, well that too comes with a bit of love and female inspiration as she adores her mom's Bosnian apple pie. 
"As a refugee woman, I am proud to be where I am today and humbled to be an inspiration to others. I know deep down in my heart, my mom, grandma, and aunt are looking from above and smiling in heaven. Happy International Women's Day!"
Alyssa Sadallah owner of Wicked Sweets
Alyssa Sadallah is the Owner and Executive Pastry Chef of Wicked Sweets, located at 10 Erie Street in Yorkville. A Utica native, Alyssa's passion for cooking and baking started at a young age. Now, as Alyssa enters her sixth year of business, she's ready to take on the next part of her journey, which includes a welcomed expansion of her culinary delights.
"My first memory of baking is being surrounded by all the beautiful cakes my mother made for my sister and I throughout our childhood. My mother always had so many creative ideas, but my favorite was her Barbie cake. She'd dress this cake in such beautiful, bright-colored frosting. I still think of how pretty she made that particular cake each time I decorate a cake of my own."  
Alyssa's childhood in the kitchen inspired her to design a world that combined her love of sweets and her love of art. Graduating with honors from Le Cordon Bleu with a degree in Pastry and Baking, Alyssa went on to serve as a Pastry Chef for Disney in Orlando, and later as the pastry chef at the prestigious Pinehurst Resort in North Carolina. But it was her independent creations that fueled her artistic passion.    
"I started baking cakes for family and friends in college, thinking it would just be a fun hobby. Later on, one of my close friends was getting married and asked if I'd make her wedding cake and a groom's cake. It was at that moment, struggling with the challenge of making this meaningful, beautiful cake, that I knew I wanted to make this my career. From start to finish, I fell in love with every minute of designing those cakes." 
That epiphany brought Alyssa back to Central New York where she decided to throw caution to the wind and opened her bakery, Wicked Sweets. 
"My proudest moment has been the day I opened my brick and mortar store. It was truly my dream coming to life and all my hard work paying off. I was very fortunate to have amazing support from my family and friends. They've been so helpful over the years – especially when it comes to taste testing and spreading the word about my business."
While taste-testing sounds like a luxurious reward that many would be happy to support, it's the key ingredient of Alyssa's success.
"My baking dream is to make delicious, beautiful cakes and pastries that make people smile the second they bite into them. I want these items to evoke happiness, which is possibly why my favorite dessert to make is wedding cakes. There's something so thrilling about the whole process of preparing something for one of the most special days in someone's life."
But, of course, we can't discuss Wicked Sweets without addressing Waitress's main topic on hand: the love of pie. 
"My favorite pie is a hard toss-up between blueberry buttermilk and bourbon pecan pie."
Carmela Caruso owner of Caruso's Pastry Shop
The owner of one of Utica's most renowned bakeries, Caruso's Pastry Shop, located at 707 Bleecker Street, Carmela Caruso has worked to keep her family's original creations true to design while building upon her legacy, one pustie at a time. 
Carmela spent her childhood behind the glass cookie cases and inside the large kitchen of Cafe Caruso. Growing up in one of the area's most coveted bakeries, which was originally established in 1958, Carmela remembers the machines, the flavors, and the customers that became like family. But, the days working inside the cafe brought more than soft, almond paste cookies. Instead, it stirred a curiosity that inspired her to explore the world, eager to soak up all that the culinary industry had to offer. 
"I worked in the hospitality industry in Chicago, South Africa, Austria, and England. But in between it all I always came home. I think deep down I knew this is where I belonged."
With each return to the area, Carmela would bring her new insight into her father's shop and, eventually, to other venues, like Utica City Hall and Hanna Park during its prime. 
"I began helping my dad after school at the age of nine. I wanted to be by his side to help him because he was working so hard. As I grew older, my whole family became thrown into the mix as my father began developing dementia."
While frying cannoli shells, a count that can run up to 2,000-3,000 in one day, and paperwork, are Carmela's least favorite parts of taking over her father's business, the best part has come with the people she meets. 
"There are so many proud moments I've had here. From stepping out on my own to designing wedding cakes for the children of my childhood friends to being part of another generation of celebrations, it's been surreal. This isn't a job anymore, it's a joy!"
And, as for her favorite slice of pie, well that has become a welcomed retreat as Cafe Caruso keeps pie off the menu.
"Pumpkin and Boston Creme are neck and neck for me. There's deep enjoyment in both, primarily because we don't have to make them." 
Margaret Rienzo Owner So Sweet Candy Shoppe
Margaret Rienzo, the owner of So Sweet Candy Shoppe, located at 531 Varick Street, grew up baking beside her mother. 
"There was always some kind of baked good being created in our house. My mother simply loved to cook and bake. Holidays were by far her favorite as she loved baking all kinds of cookies for Christmas and loaves of bread at Easter."
While Margaret was years away from owning an old-fashioned candy store and small bakery of her own, her dream of creating cookies, like her beloved sugar cookies and French Macarons, began to take root. 
As a floral designer for over 30 years, Margaret began to feel those roots take shape as her creative edge pulled her away from the greenhouse and into the kitchen. A world of confectionary possibilities unleashed as she began to take baking classes. Suddenly, Margaret was pushing herself beyond her expectations, making an array of colorful candy and baked goods, and selling them at craft fairs and farmer's markets, where she became known as the sugary staple. 
"My husband and I had done hundreds of craft fairs and local events over the years. I was at a particular outdoor event in late October when it began to rain. It rained so much that the whole area became soaked. I sat in this soggy area, sinking into the ground, for six hours. And, just as it was time to tear down our site, it began raining again. By the time I got home, freezing and soaking wet, I said to myself 'that's it! I'm opening my own shop so I don't have to do this outdoor stuff anymore!"
Margaret stayed true to her words and, despite the uncertainty she felt, began searching for a home to bring her dream to life.       
"I faced a lot of obstacles in opening my own place, mainly because I had a complete lack of knowledge of how to make my shop happen. I spent hours reading to educate myself on the subject, and then I enlisted the help of a wonderful counselor at the Small Business Administration who guided me along the way. I struggled to put myself out there, to meet with people I didn't know, and to ask the right questions so I didn't look as clueless as I felt. But everyone I met was generous with their knowledge and patience."        
So Sweet Candy Shoppe, set in a quaint building on the corner of Varick Street, not only answered the dreams of young Margaret, but the sweet dreams of patrons young and old.  
"I think my proudest moment as a business owner was on our first anniversary. We had made it a whole year without falling flat on our faces. Better yet, I could see growth in our business numbers."
Carrying fudge, delectable truffles, rich chocolates, and an array of 'penny" candy, Margaret fell in love with her visions, her customers, and the ability to be as creative as she wanted. And, as for her favorite type of pie..                                                                                                                                                 
"My favorite type of pie is a difficult choice, but I would have to say blueberry."
Nicole Siriano Owner of Holy Pizzolie
Meet Utica's pizzolie queen, Nicole Siriano. A former paralegal and advanced credentialed alcohol and abuse counselor with over 20 years of experience, Nicole took her baking DNA and switched gears later in life to bring her sweetest dream to life.
Paralegal turns baker might seem like an odd combination until you learn that Nicole is the granddaughter of Utica's treasured Rintrona's Bakery, which closed in 2009. 
"By the time I was four my father had me visiting the bakery with him every weekend. I grew up watching my grandparents work hard day in and day out. As I got older my grandmother taught me what hard work was and showed me the ins and outs of the bakery."
Unfortunately, Nicole would face the loss of her grandmother in 2005, and while her father continued to carry the bakery's legacy, she'd face another loss as it closed its doors four years later. 
"After my father passed away, in 2015, I found myself struggling from the losses. One day I decided to start baking. I began playing with cakes and Italian pastries as a sort of therapy."
While Nicole had spent a great deal of time beside her father in the bread baking industry,  it was her mother who instilled her love for baking.  
"My mom was the dessert baker in our family. My first memory of baking was helping and watching her as she created desserts. She passed away in 1993 and I've always cherished the memory of us baking together. So when I began baking, I started with cakes for children's birthday parties. Suddenly I began receiving photos of kids with their cakes and I fell in love with the pure happiness that was on their faces." 
As word of Nicole's cakes began to spread, so did her creativity. Her fanbase soon saw products like pizzelle cannolis and peanut butter and jelly pusties. 
"Being a single mom with two little girls and trying to manage day-to-day life, while working full time and starting my own business, was a huge obstacle. There were financial struggles, and then the struggle of working through the pandemic."
Luckily, Nicole had other moments that kept her grounded and kept the dream of Holy Pizzolie alive. 
"There have been so many moments that have made me proud. Creating desserts for special occasions, like birthdays and weddings, has helped me realize and understand that I'm making an impact on important moments in people's lives. Collaborating with other local women-owned businesses and supporting and cheering one another along as we struggle and succeed has been another huge part of success as well."
While Nicole continues to bake up new ideas, her baking dream is to continue her growth, while helping others find the confidence they need to showcase their creative abilities. And sometimes that dream comes when she's lost in her kitchen, whipping up her favorite pistachio cannoli cake. 
But of course, there's the pie issue at hand. Nicole's favorite: banana pustie cream pie by a landslide. 
###