Broadway Utica's Students on Broadway
Here at Broadway Utica we fully understand the financial constraints of experiencing the world of Broadway due to the rising cost of productions and ticket pricing. Along with art programs constantly being cut nation wide from schools and budgets. Broadway Utica is committed to providing the live theatre magic to all students and the youth in our area that are enrolled in k-12th grade. This one-of-a-kind program is uniquely designed to expose all aspects of the theatre community to at risk, underserved youth, those living in group/foster homes, low income neighborhoods, school groups, drama clubs and more. There are no boundaries in theatre and there are no boundaries in our program.
"It is critical in todays world to have outlets for our youth. A safe place to express themselves, to have a voice and to learn from peers." -Danielle Padula, Executive Director of Broadway Utica. "The theatre is a place of acceptance, powerful messaging, on top of a business industry. Our youth can learn about the world of acting, set design, lighting, stage management, musicians and more. Each student will be able to witness every intricate piece of this puzzle come to life on stage".
"One of my favorite things to do is to bring the kids I mentor to a Broadway show at the Stanley Theatre presented by Broadway Utica. The excitement and awe on their face when seeing the Stanley Theatre for the first time and watching them have so much fun during the shows is priceless. Without the generosity of the Broadway Theater League of Utica donors and sponsors, these kids would never have the opportunity to experience this. Utica is extremely lucky to have these events right in our city. We appreciate the contributors for allowing us to attend the shows at no cost to the child." Gina Buono, ICAN service provider/mentor
Your tax deductible donation directly impacts the students in our community. Broadway Theatre League of Utica is forever grateful for your contribution and reaching students BEYOND THE STAGE. Together, we can make a difference. If you are interested in donating to our program, you can donate directly online at https://foundationhoc.org/broadwayutica or make checks payable to Broadway Theatre League of Utica, 258 Genesee St. Attn: Students on Broadway, Utica, NY 13502 or by calling 315-624-9444. Any questions, please contact Kristen at Kristen@BroadwayUtica.org 
Donate to the Students On Broadway Program
All funds/ donations are managed through the Community Foundation of Herkimer and Oneida Co.
Students on Broadway is a unique program that gives students in all grade levels a chance to see live productions regardless of race, ethnicity, financial status and more. The theatre is a place with no boundaries, full of acceptance, powerful messaging and hope. We believe every child in our city and the local area should be exposed to theatre and all it has to offer.
With the arts, many experiences can be limited for students due to ticket cost, funds being cut in schools and other everyday reasons. By having student enrolled in our program, they are able to attend high quality, touring, award winning Broadway shows. Each child will be able to experience the magic of theatre with their mentor, teacher, foster home, after school program coordinator or agency. We are committed to educating our youth to every aspect of the theatre world.
Interested in attending a show with students enrolled in a youth or mentoring program? 
Please complete the form HERE. Program eligibility is listed below.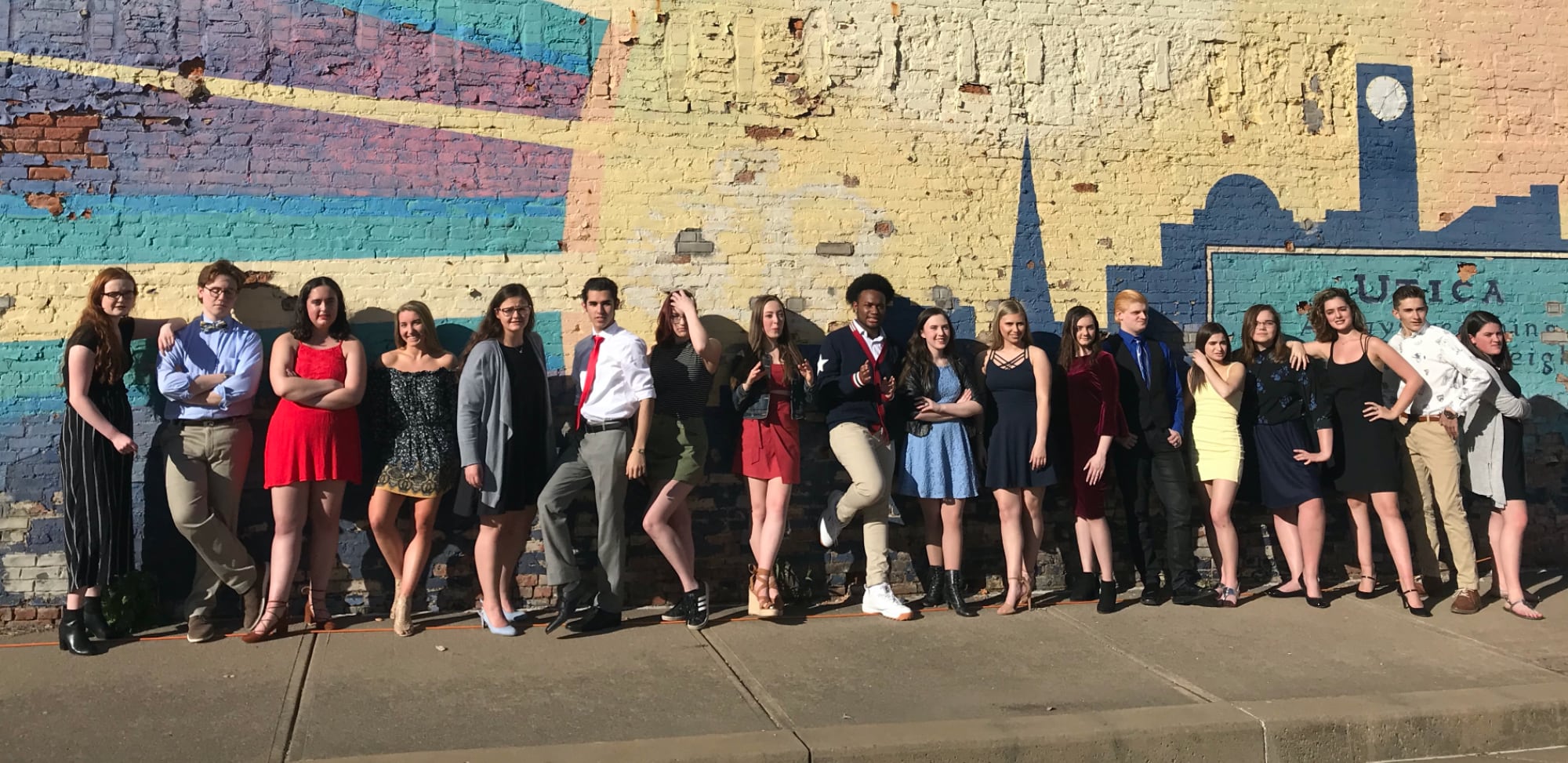 Be Involved!
If you want your school, students or mentees to become involved with STUDENTS ON BROADWAY for the 2022-2023 year, please complete this form HERE. You can reach out to Kristen Matteson directly at Kristen@BroadwayUtica.org if you have any questions regarding the application or program.
Program Eligibility: 
Funding for this program is through a grant and all necessary paperwork and forms must be completed in order to be eligible. The student must be enrolled in grade K-12 in a local area school.  Submissions are accepted on an individual show basis. All applications must be in at least 2 weeks before the date of show.
This program is for youth organizations, schools and mentoring programs only. All submissions must come from a registered workplace email address. Verification of employment may be asked with proof of a work badge, etc. This program is limited to a certain number of participants each night, per performance. Members of Broadway Utica will review each individual application. It may take up to 7-10 business days for a response. 
All tickets will be held at the Stanley Theatre's Box Office and available for pick up on the night of the show.
For more information on any of our programs or to become a Students On Broadway donor call 315-624-9444 or email: Kristen@BroadwayUtica.org