Show Details
"Toot toot, hey, beep beep!"  
Say those words, and you'll immediately feel the beat, the spirit, the heat of the legendary Donna Summer. Her songs smashed every record. Her story shattered every barrier. Now, the queen arrives in Summer: The Donna Summer Musical.  
She was a girl from Boston with a voice from heaven, who shot through the stars from gospel choir to dance floor diva. But what the world didn't know was how Donna Summer risked it all to break through every barrier, becoming the icon of an era and the inspiration for every music diva who followed. From Janet Jackson to Beyoncé, they all began with Donna. 
Three actresses play the role of musical icon Donna Summer at different points in her life as "Diva Donna," "Disco Donna" and "Duckling Donna," while an inexhaustible ensemble of almost entirely women tear up the stage. 
Featuring stunning, athletic choreography, SUMMER takes us through her tumultuous life and tempestuous loves. Including a mega-watt dream list of musical hits—including "Bad Girls," "MacArthur Park," "She Works Hard for the Money," and "Last Dance"—SUMMER makes [Spring/Winter/Summer/Fall] the hottest season of all.  
Show Run Time: The show runs 1 hour and 45 minutes with no intermission.
Age Recommendation: May not be suitable for children ages 12 and under. 
This production of SUMMER contains the use of strobe lights, theatrical haze & fog and some adult themes, including depictions of drug use and violence.
Covid Update as of 8/26/2021 -- Masks will be required for this performance, except while eating or drinking. Vaccinated individuals and children will be required to wear a mask also.
Broadway Utica is doing their best to make your experience safe and enjoyable for you, our guests and the cast and crew. Please contact us with any concerns, there is an opportunity for social distancing and pod seating. Check back here for additional updates. Thank You.
NO REFUNDS:  Events, dates and times are subject to change; No retroactive discounts allowed; All fees are nonrefundable if show is cancelled or rescheduled CHECK YOUR TICKETS:  Entry to the show will be honored for the date on the face of the ticket only – no exceptions LATE ARRIVALS:  Late arrivals will be held in the lobby until the show approves entry UNAUTHORIZED sale, resale or attempted resale is illegal and may result in seizure and cancellation without compensation DISCOUNTS:  Cannot be applied to multiple purchases or combined with any other offers or discounts One ticket per person, one person per seat; No weapons or dangerous instruments; All purse/bags are subject to search; No cameras, audio or video devices allowed in the theatre; We reserve the right to ask anyone creating a disturbance to leave without compensation SPECIAL OFFER:  This ticket can be redeemed for one small coffee at WISK bakery | café with a café purchase – No other offers or discounts may be applied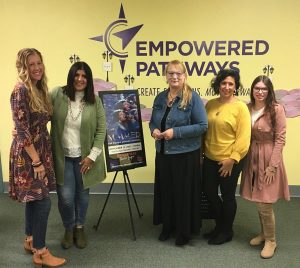 For more than 30 years, the Women's Employment and Resource Center has dedicated their mission to help women successfully enter the local workforce through specialized training programs and one-on-one personal assistance. As a non-for-profit agency designed to help people create self-directed solutions and move forward with their lives through education, advocacy, and empowerment, Broadway Utica has launched a call to the community requesting supply donations, such as notebooks, pens, umbrellas, bus passes, and gas gift cards, between now and the musical's debut performance on November 23rd. The goal of the campaign is to shine a spotlight on the community's needs, while drawing attention to local organizations that aid women like Santana Charlotteen and Marion Davis enter and advance in the workforce.
Broadway Utica is accepting donations at their home office for Empowered Pathways. Our office is located at 258 Genesee Street in Utica, and during the premier of Summer: Donna Summer Musical NOVEMBER 23, 7:30 PM.
Everyone who donates will receive a $5 off coupon towards a show or merchandise from Broadway Utica.
WISHLIST
Day Planners or Spiral Notebooks, Pens, Pencils, Highlighters
Gift Cards from Staples (to purchase job search and office supplies)
Gas Gift Cards (for transportation to/from work or WERC training)
Gift Cards from Josie's Uniforms & Shoes (New Hartford Shopping Center)
Bus Passes (for transportation to/from work or WERC training)
Umbrellas (for women who must wait for buses in the rain)
Glasses – Readers any strength (many need reading glasses but cannot afford them)
Feminine Hygiene Products
Shampoo, Soap, Toothbrushes, Tooth Paste, Deodorant (trial size okay)
Webcams (for women who have computers without camera capability- needed for Zoom meetings)
Laundry Detergent
Baby Items: Diapers (large sizes), Formula, Baby Wipes
Tote Bags
Lunch Bags