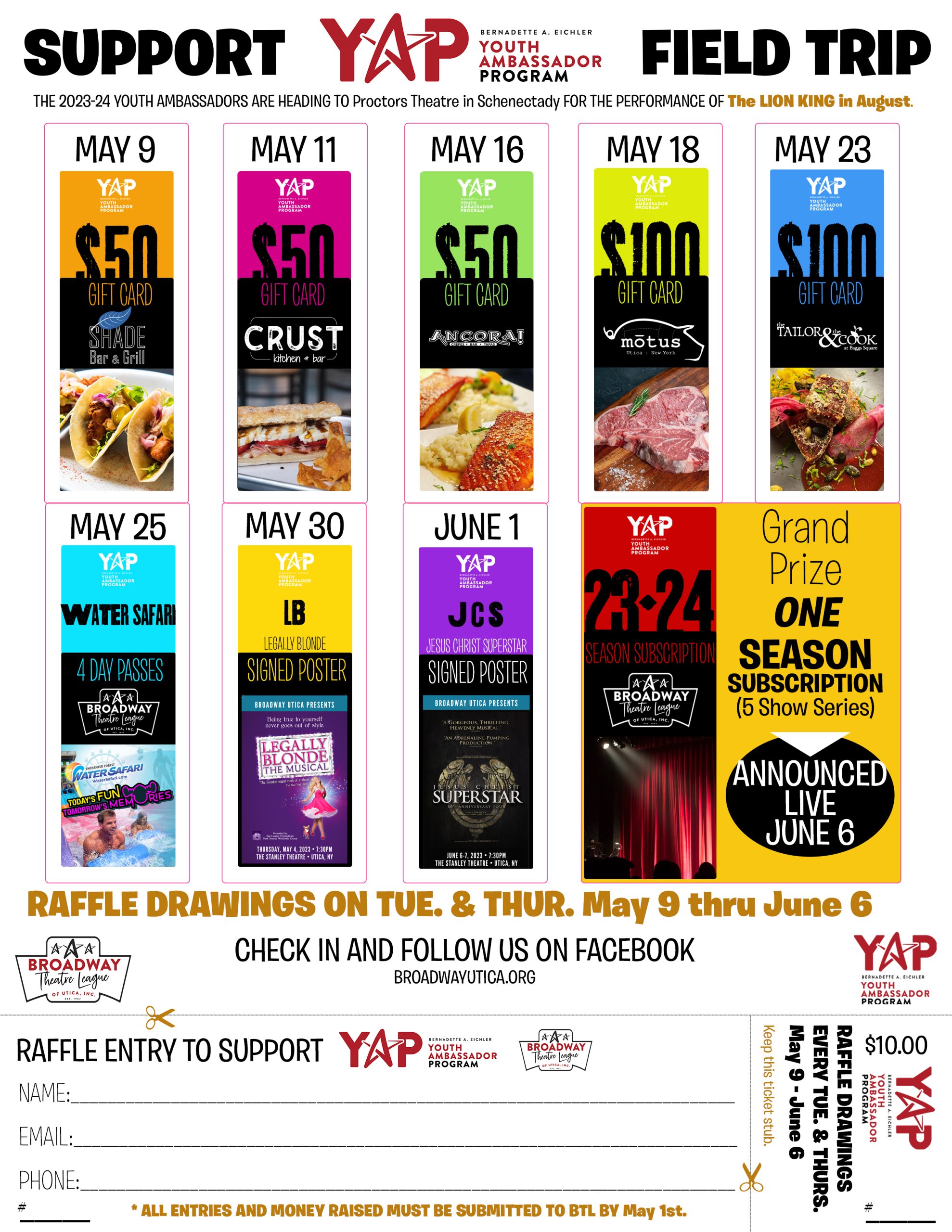 BROADWAY UTICA'S AMBASSADORS GET SET TO EMBARK ON THEIR JOURNEY TO SEE THE LION KING AT PROCTORS THEATRE
Each year Broadway Utica takes their Youth Ambassadors on a field trip to see other live Broadway touring productions. This August we are heading to Proctors Theatre in Schenectady to see The Lion King.  As they embark on this journey, the YAPPERS are fundraising by selling raffle tickets. Raffle tickets are only $10, with nine chances to win.
"We did a similar raffle last year to help offset the cost of bringing 30 plus youth ambassadors to see another Broadway touring show outside of Broadway Utica's 22-23 Season.  The trip consists of tickets to the show, dining at a local restaurant and transportation. Supporting ticket sales to a nearby theatre is also our goal and efforts to support the Broadway community, "said Kristen Matteson, Community Engagement and Program Coordinator.  "Take a chance and support this amazing group of theatre loving youth. There is no doubt that it will create an everlasting memory."
Tickets are on sale now until May 5th. Drawings will be held on Tuesday and Thursday starting May 9 - June 6, 2023. The full list of items that you can win are as follows:
May 9 - $50 Gift Card to Shade Bar and Grill (located at the Delta By Marriott in Utica)
May 11- $50 Gift Card to Crust in Utica
May 16 - $50 Gift Card to Ancora in Utica
May 18 - $100 Gift Card to Motus in Utica
May 23 - $100 Gift Card to Tailor and the Cook in Utica
May 25 - 4 Day Passes to Water Safari in Old Forge
May 30 - Signed Legally Blonde Poster
June 1 - Signed Jesus Christ Superstar Poster
🏆GRAND PRIZE- JUNE 6, ANNOUNCED LIVE ON FB - ONE 2023-24 Season Subscription
Tickets can be purchased Monday-Friday from 9:00am to 4:00pm at Broadway Utica's Office | 258 Genesee St. Utica, by phone at 315-624-9444, or through one of our youth ambassadors.
The Bernadette Eichler Youth Ambassador Program engages area high school students in its seasonal productions and also inspires them to thrive in the world of theatre, the arts, the community and in life. To become a part of the drama for the 2023-2024 season, LEARN MORE here or email Kristen@broadwayutica.org