BROADWAY UTICA'S 2021-2022 LINDA LEOGRANDE SCHOLARSHIP RECIPIENTS

CONGRATULATIONS TO ALL THE 2020-2021 BERNADETTE A. EICHLER YOUTH AMBASSADOR PROGRAM SENIORS
Our 2020-2021 students have been interrupted by Covid-19 but still influential in each other's lives and a true asset to Broadway Theatre League of Utica. These amazing young adults did not have a traditional year of Broadway Shows at the Stanley, or pre-talks with cast members and class trips to the city but that didn't stop us from meeting virtually and participating in community events.
Below, read what the 2020-21 Yappers had to say about the program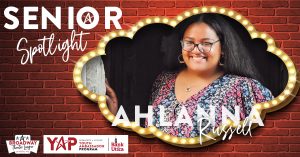 Ahlanna Russell
Proctor High School
Attending: Ithaca College
Major: Musical Theatre and Vocal Performance
Where I see myself in 5 years… I plan to be graduating from college with a BFA in musical theatre/vocal performance and starting to audition professionally.
"As a member of the youth ambassador program, I love the relationships I've formed. Everyone has a mutual respect for each other as artists and individuals. I've met some of the kindest and most talented people through this club."
---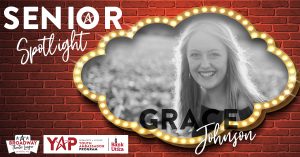 Grace Johnson
Clinton High School
Attending:  Geneseo College
Major: Childhood and Special Education
Where I see myself in 5 years… I hope to be teaching English in another country and traveling.
"Being a member of this program, I mostly enjoyed the connections that I made over the past two years."
---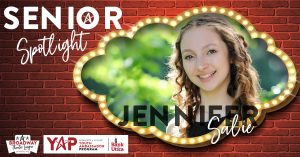 Jennifer Salie

Whitesboro High School
Attending: Mohawk Valley Community College
Major: Liberal Arts and Science/ Theatre
Where I see myself in 5 years… I hope to have graduated from college. I'm not exactly sure where I will be, but my goal is to be involved in theatre as much as possible, pursuing what I love.
"My favorite part about being a youth ambassador was attending the pre- talks. It was amazing getting to hear from people involved in the industry and hearing about the different jobs they all have pertaining to putting on a show. It was very exciting and made me even more excited for the show we would be seeing that night."
---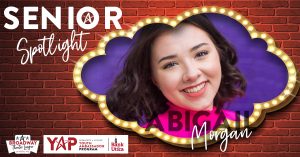 Abigail Morgan
Rome Free Academy
Attending: BFA Musical Theatre Program
Where I see myself in 5 years… I hope be working and have a professional musical theatre contract somewhere in the world! I would also love to explore choreographing!
"I have loved my time as a youth ambassador! My favorite things were meeting so many truly amazing people and getting to experience professional theatre in a new up close and personal way while having a ton of fun and representing the community!"
---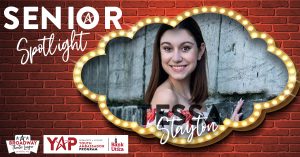 Tessa Stayton
Sauquoit Valley High School
Attending College / Still Deciding
Where I see myself in 5 years… I would love to be on a career path I enjoy and find fulfilling. I hope to have strong relationships with others, and of course keeping up with my hobbies and interests… including theater!
"Being an ambassador always gave me such a great feeling to connect with other people that you share common interest with and support each other."
---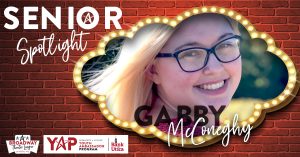 Gabby McConeghy
Proctor High School
Attending: Utica College or SUNY Morrisville
Major: Nursing
Where I see myself in 5 years… I see myself as a successful nurse and starting a family.
"As a youth ambassador, I enjoyed the fun assignments that we received throughout the season."
---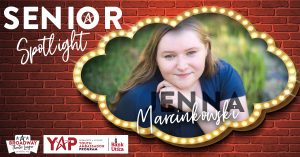 Jenna Marcinkowski

Adirondack High School
Attending: Worcester Polytechnic Institute
Major: Engineering
Where I see myself in 5 years…I will have graduated from college with bachelor's degree in engineering.
"As an ambassador, I enjoyed getting to meet other kids around central New York who shared the same common interests as me, as well as volunteering in our community and interacting with people."
---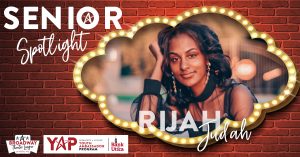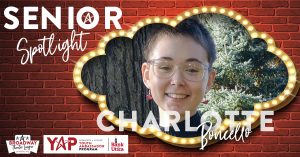 ---